Published Jan 8, 2018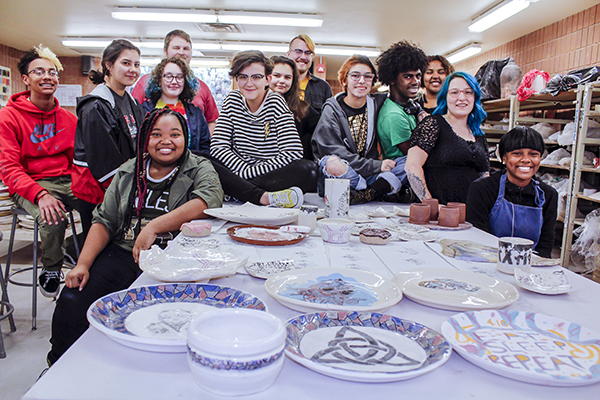 Ceramics Monthly: How did the Stop, Collaborate, and Listen class at Manchester Craftsmen's Guild (MCG) come about?
Talon Smith: When National Clay Week approached MCG about participating, they asked if we could work with a collaboration theme. This gave us the opportunity to really showcase the diverse group of students from many different communities who are enrolled in our after-school program. I am investigating the role of surface design in my own personal practice and use several techniques that take me out of the ceramics studio. Collaborating with our design studio and with teaching artist Ben Pyles seemed to be a natural fit. Our course aim was to introduce students to new techniques and give them the opportunities to work with new peers and materials.
Ben Pyles: For the past year, Talon and I have been regularly collaborating to diversify our respective skills. I was very interested in learning more about the process of ceramics and handbuilding, while Talon was working out how to best incorporate screen printing into her work. We fostered a relationship where we could teach each other new techniques to incorporate into our work and continue to challenge ourselves. We wanted to introduce this kind of technically challenging and supportive relationship to our students.
CM: What goals did the students focus on in the class?
TS: The goals for this class were to work cooperatively to explore common themes, to teach each other how to do new processes, to explore new techniques and materials, to learn how to use the materials effectively, and to identify which ceramic pieces would be conducive for the imagined designs.
CM: How did the collaborations unfold?
TS: Each class began with both studios meeting in one space. The students were given the freedom to discuss what they wanted to work on. Student projects in ceramics and design were developed in tandem. There were students who gravitated toward the three-dimensional work and other students who moved toward screen printing, drawing, and painting. One student started as a design student, got motivated to create sculptures in clay, then identified as a ceramics student by the end of the trimester. Another group of students took the collaboration to a new level by including drawings of "cat ghosts" drawn by each student and both teaching artists in the class and translating them into screen prints, which they added to tiles.
BP: Students were paired up into groups consisting of at least one student from ceramics and one student from design. The groups were given some light boundaries, mostly consisting of what process we wanted them to engage with. It was important to us that students from both studios be involved with the entire process. Design students had a say and were involved with deciding what the ceramic vessel/object would be, and vice versa. Students were asked to consider how their design or pattern might fit on ceramic vessels and how their images might warp due to the curvature of the vessel.
CM: What were the students' responses to the final pieces?
TS and BP: The students seemed genuinely excited about what they created and are looking forward to expanding these processes even further in future classes. Their success with the projects helped create objects that reflected not only their interdisciplinary talent, but also their ability to communicate ideas effectively. It gave them the opportunity to interact with students they didn't know before. We hope that this class helped students reach to their peers and expanded the realm of possibility for what and how they create.
Ceramic Art and Artists
Ceramic Glaze Recipes
Ceramic Supplies
Clay Tools and Equipment
Firing Techniques
Pottery Making Techniques